Sunday, March 08th is International Women's Day 2020! It's the 45th since World Women's Day was made official in 1975.
This year the theme of the official holiday, according to the internationalwomensday.com website is "Each for Equal". It means "Equal, and equal for all". An equal world is an enabled world. An equal world is a world that works; in other words, society functions much better when men and women are equal, so women need to be empowered for the sake of our shared future, as well as for the welfare of individual women.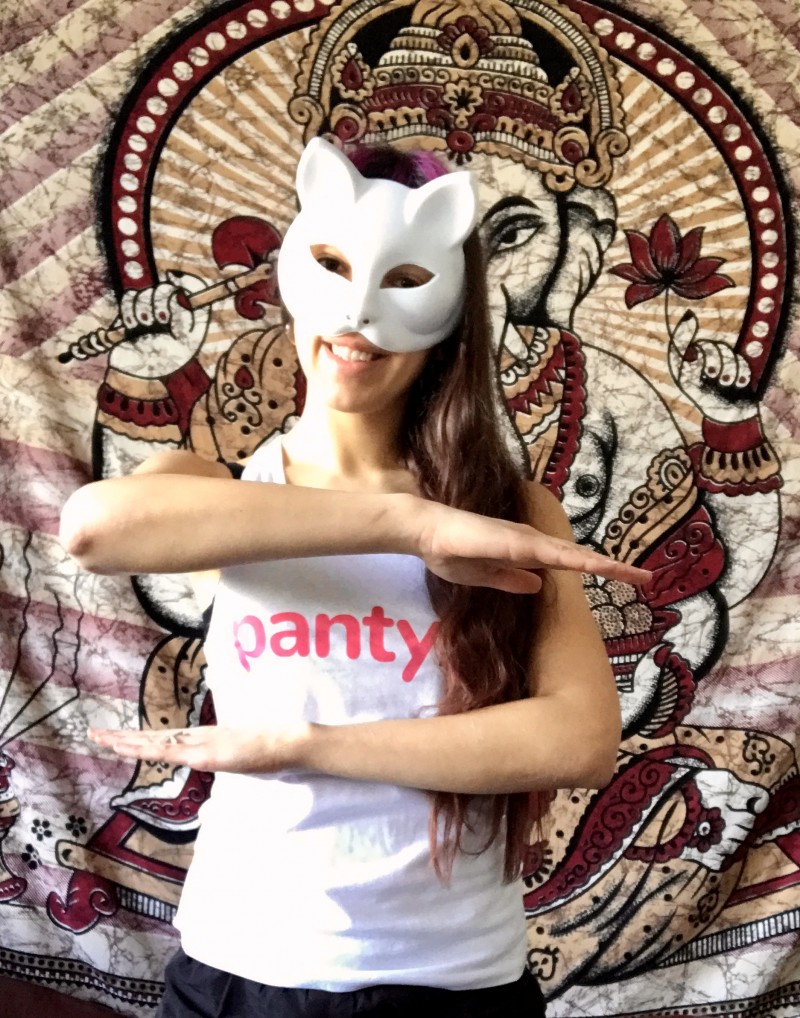 The theme of the new decade seems like the same message women have been trying to shout to the world not only since the 1970s but since time began. There are, of course, hundreds of women who have sacrificed themselves in the name of gender equality throughout the history of mankind.
On March 8th, thousands of women will take to the streets to demonstrate their support for a world free from ignorant, masculine, outdated and unjustified bigotry - the kind that still persecutes the female sex to this day.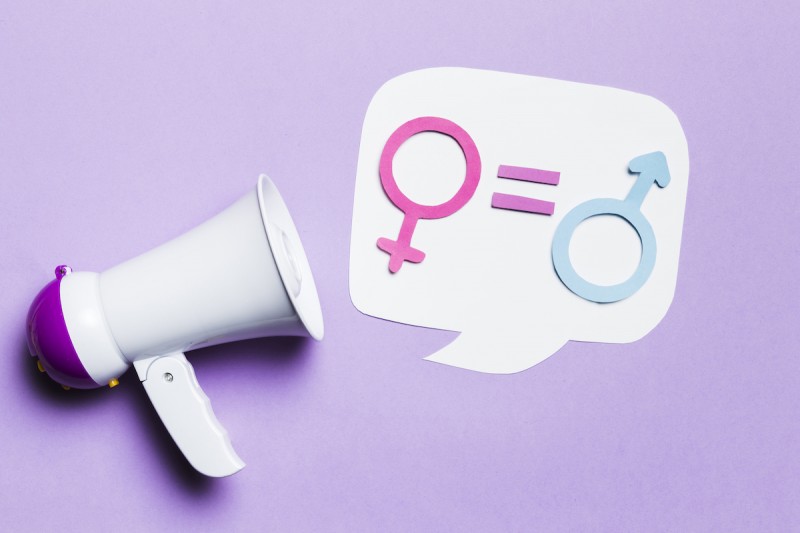 Sexual equality between women and men.
Yes, there are many aspects of life where women still have to fight to achieve equality, but it is also true that there are many others where we have achieved success!
We must remember the many areas where women have achieved great results, such as medical, economic, environmental, and scientific. It is also right, however, to talk about those aspects that are often judged as less important but affect women on a daily basis. Among them is a topic close to our hears: sexuality!
Female and male sexuality: have we achieved equality?
Yes, there are many places where it is still taboo for women to talk freely about sex, and you don't have to go too far to find them. Even in the US, many women hide their true sexual selves in order to not upset the status quo, or appear unfeminine. And this is totally understandable - it's hard to overturn years of prejudice!
However, there are many women out there who have conquered the world of sexuality and opened the doors to pleasure, without fear of judgment.
Sexual equality: success stories.
With International Women's Day in mind, we looked at aspects of sexuality in which women have reached a certain level of equality. Here are three of them:
Female Masturbation: women like to masturbate.
Current data show that 85% of women masturbate and that on average women start masturbating a few years earlier than the average male. The percentage of men who masturbate is 99%. Moreover, on average, women masturbate at least 5 times a month, which is quite a lot!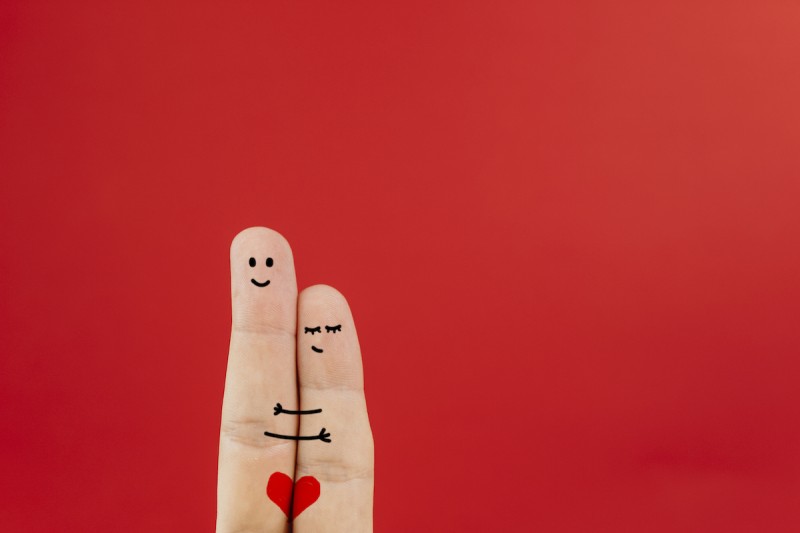 A few years ago this average was much lower, but not because women did not masturbate, but because many women would not admit it. Today women are no longer afraid to celebrate their enjoyment of their own sexuality, in the same way men do. There is nothing wrong with wanting to know our bodies and our pleasures. In fact, it's very, very right!
Sex toys.
In recent years the erotic industry has catapulted - and interest in sex toys has too. Women now account for 40% of customers! For Women's Day, it has become very common to give or receive sex toys as a gift - between friends as well as lovers! In fact, women have started more than ever to look for products related to sexuality. Also, due to increased demand, sex shop products are increasingly aimed at a female audience.
Even sex shops themselves have changed. Once being anonymous places frequented only by men, they are now boutiques that organize workshops and informative events on various sexual issues. They aim to promote healthy and positive sexuality for everyone.
The objects most sought-after by women themselves are vibrating eggs, massagers and clitoral stimulators.
Porn for women!
Yes, friends! The new decade also began with porn categories made especially for women. There are many adult video sites where you can watch porn that has feminine pleasure in mind. As well as this, the porn industry itself has changed and there are many movies and films in the erotic genre to prove it. Of course, the 50 Shades saga has helped a lot. There has also been an increase in successful erotic movies shot from a female perspective, like Nymphomaniac, volumes 1 and 2.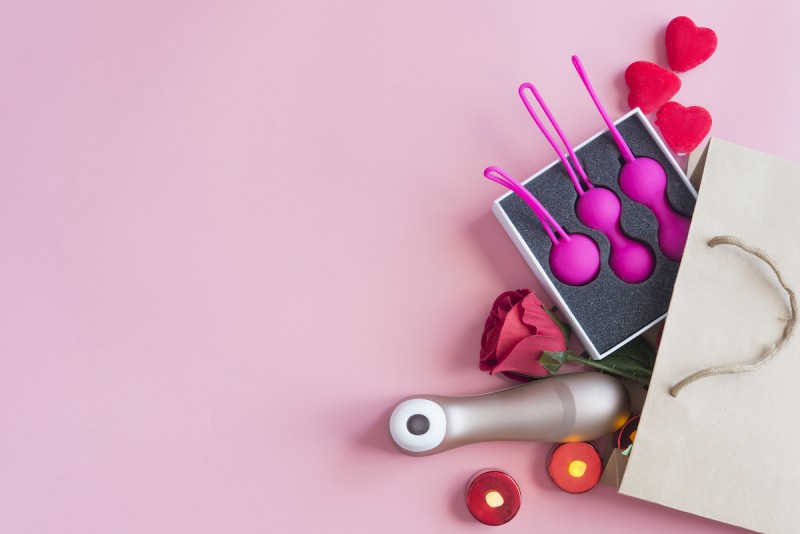 The video site Pornhub regularly churns out interesting statistics about the world of sexuality, including women's interest in porn videos. We have collected some numbers that show the general porn habits of women across the world:
The most popular porn category for women: Lesbian.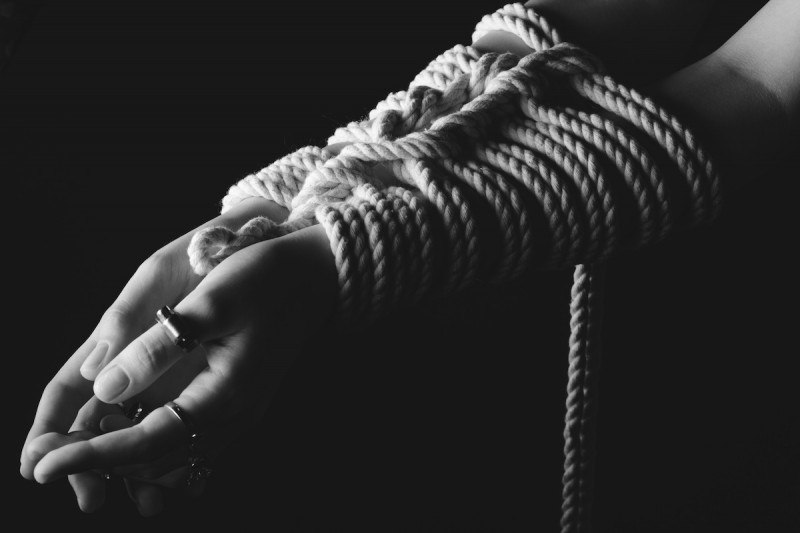 Statistics show that women overwhelmingly prefer "Lesbian" porn and the "Japanese" category.
The figure below shows the other categories most loved by women in relation to those of men.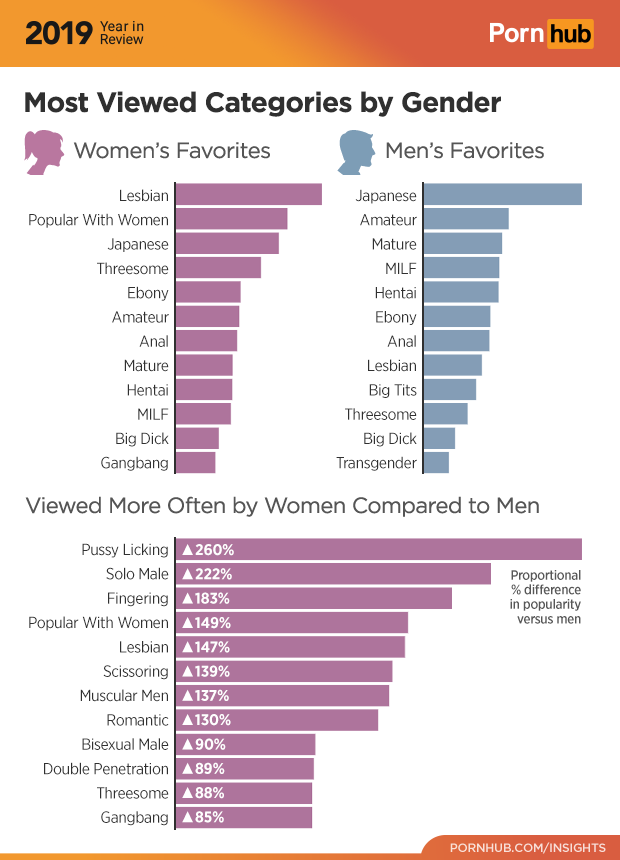 If we explore the videos most watched by women in comparison with men, we find that women are very interested in female oral sex, but also in videos of men on their own. In third place is another female pleasure: fingering.
Women's taste varies in relation to the geographical area. From the picture below you can see that the main category most sought after is always "Lesbian", but also that in Russia Hentai is very popular, and that in North Africa and the Middle East women are intrigued by anal.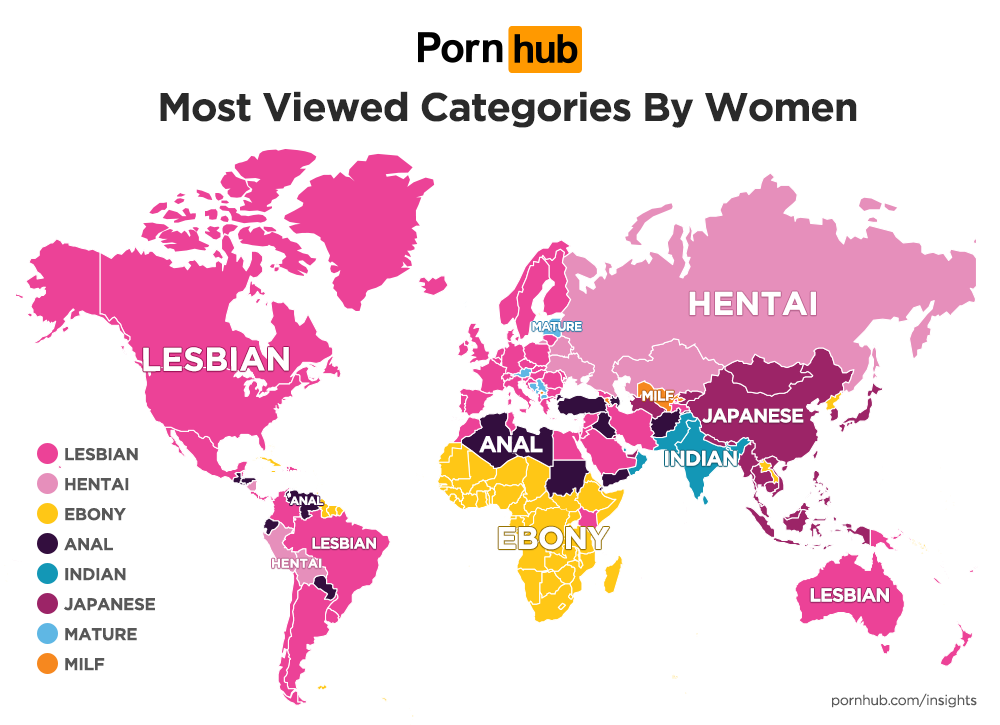 Image: Pornhub
The country with the most female erotic video lovers: The Philippines.
More and more women in the world are watching erotic videos and porn. The most passionate are Filipino women, with 39% of women who regularly watch porn. In Spain and France, 32% of women watch porn and 30% in Italy.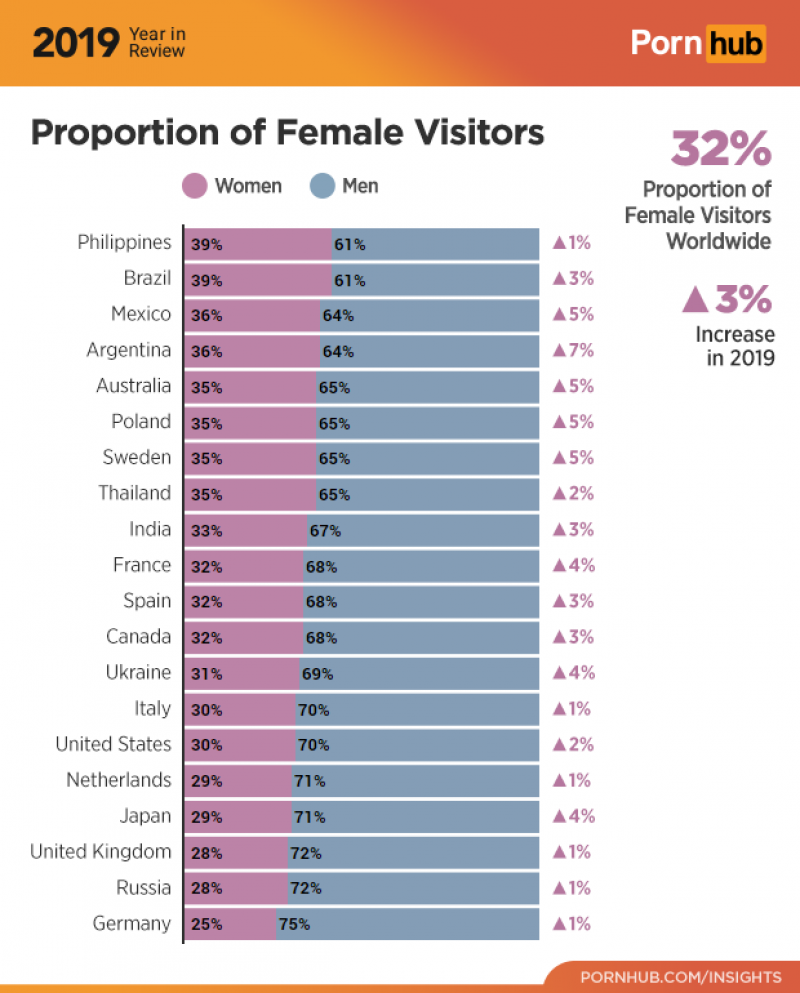 Women reclaim their sexuality with used underwear.
Panty.com data confirms the trends and numbers above. There are many women who join our community every day. But, importantly, there are many who tell us how starting this activity has changed their awareness of their sexuality.
We regularly publish interviews with our saleswomen. They tell us about their experiences in a community where they are business leaders, and where they get great pleasure and sexual satisfaction from their work.
We support the #EachForEqual women's party campaign. Equality should be for everyone and applied to every aspect of life - especially sexuality!