Vanessa lived surrounded by contrasts. She was born to a well-to-do family in Kensington, London, and was educated in religious schools. She was the unexpected and youngest child of six siblings. Just over a year ago she abandoned her architectural studies and freed herself from the wealthy lifestyle and authoritarian shadow of her mother, who to this day still asks her to confess to all kinds of imagined wrongdoings.
The flat in Camden to which she moved was all she could afford to rent in London. Without renovation, it could have been Al Pacino`s bachelor flat: seventies wallpaper broken and torn in a thousand places, old plinths detached from the wall, a cuckoo clock in the hall, a wrought iron umbrella stand and hydraulic tiles in the bathroom and kitchen... Even so, for Vanessa this flat was the closest thing to paradise.
It was noon. The dark corridor was only illuminated by the intense light radiating from the threshold of the kitchen, partly because it had the only window facing east, and partly because that was where Vanessa was, the most brunette and most beautiful woman, who, like every morning of that autumn, was finishing an order for Alfredo.
From wireless speakers next to an old gas stove, "Dream a Little Dream of Me" sounded. Holding a huge dildo as if it were a microphone, Vanesa sang in a voice which tried to mimic the great Ella Fitzgerald.
♫ Stars shining bright above you, night breezes seem to whisper "I love you"…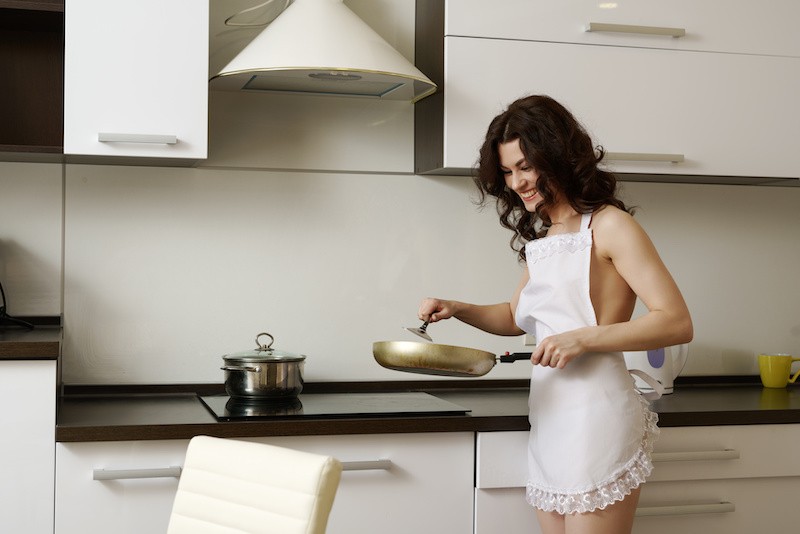 Vanessa was precious. She was completely naked under her white apron, which was incapable of containing her large, swollen breasts, which looked out cheerfully from the side of the fabric. The strap that tied her apron to her body found no better shelter than between the two buttocks of that beautiful, perky, round and white ass, on which the faint trace of a bikini line could still be seen.
♫ Just hold me tight and tell me you miss me... - Vanessa sang, with the glans of a silicone member glued to her lips.
All the while her left hand tightly held Nacho Vidal's replica, and her right hand skillfully turned, with a wooden fork, eight large doughnuts she had frying over a huge old iron pan.
Her mobile began to vibrate in the pocket of her apron. After checking the phone screen, she left the dildo next to a large fountain of doughnuts which were already fried and covered with sugar.
"Wait a minute, Alfredo, I don't have good service here," she warned her caller.
After turning down the music, she went to the large wooden window, open as it was every morning in order to dissipate the heat from the kitchen. Having reached the window, she placed the headset of her mobile phone against her chest and leaned out.
"Again, Paco? Again?" She called, albeit without much conviction, to a neighbour on the other side of the street trying uselessly to conceal a digital camera.
Resigning from the window with a grimace, she returned to her telephone call.
"I know, Alfredo, I know..." She said to him, conciliatory.
After a few seconds spent listening to the same speech as every other day, Vanessa, removing the earpiece from her ear and holding it a few centimetres from her face, began to silently and amusingly imitate Alfredo. When the time came, she returned to the conversation.
"Alfredo, I have already told you that I am not willing to make them smaller. I like them that way. Aren't they good?"
"Well, that's it... pick them up in an hour."
Alfredo, on the other end of the phone, went back to ranting.
"Yes, yes..." she nodded in response, looking at her nail polish without any interest in what was being demanded of her through the earpiece.
"Yes... hurry up, or else they'll burn," she said. "Come for them in an hour."
Vanessa abruptly cut off the call and turned around, returning again to the stove. This moment was caught by the voyeur and immortalised her impressive ass as she, making use of the element of privacy provided by a flag, pressed her crotch against the balcony rails.
Back in the kitchen, Vanessa quickly removed the large doughnuts one by one and placed them in a bowl of sugar. There, with quick movements, and helped by a fork and a wooden spoon, she spun them until they were ready to join the plate of already finished donuts, the whole process ending as the song reached its final stanza. She turned the volume up as much as the loudspeakers allowed.
♫ But in your dreams whatever they be...
Vanessa grabbed the dildo again and finished the tune, with half a glans in her mouth and swollen veins in her neck.
... ♫ Dream a little dream of me!
She sang as she violently shook her long, blonde mane.
There was silence in the kitchen. Vanessa's shortness of breath and light sweat caused by the heat of the stove and her long, unkempt hair, seemed more like a response to an improvised sex session in the services of a disco than to the intensity of a pop song during the frying of some doughnuts.
After a few seconds, she began to cut, helped by a glass of cider, circles in the dough for the next batch of doughnuts. She then poured a little olive oil on the glans of the enormous dildo she had on the worktop and started to very slowly oil the silicone member, ascending and descending with her hands up and down the whole body of the penis: a virgin masturbation.
One by one she carefully inserted the eight circles of dough with Nacho's cock and removed the excess. Finally, she extracted the doughnuts again, carefully depositing them in the boiling oil while, out of tune, she mumbled:
"Leave the worries behind youfrom her door, cousin, to my door".
With the new batch of doughnuts already frying, Vanessa brought the dildo to her mouth to proceed, with parsimony, to lick from it the remains of residue dough. She progressed lustfully with the tip of her tongue from the testicles to the tip, which she inserted whole in her precious and delicate mouth, before removing it completely clean, shiny, and ready to receive another batch of those delicious doughnuts about which there was so much talk throughout LondonMadrid, and of which she alone was the owner of the secret that made them different.