February 14th is Valentine's Day and, as usual, love is celebrated. However love is not only made by plush hearts and red roses, and there are many other aspects related to it, like the sexual fantasies.
Do you want a hot Valentine's Day? Let's start talking about one of the most exciting sides of love: Sex, a fundamental aspect of the love sphere for everyone, couples or singles. Sex is an essential aspect of everyone's life, and in the last years, it seems to have become easier to talk about it, but is it a reality?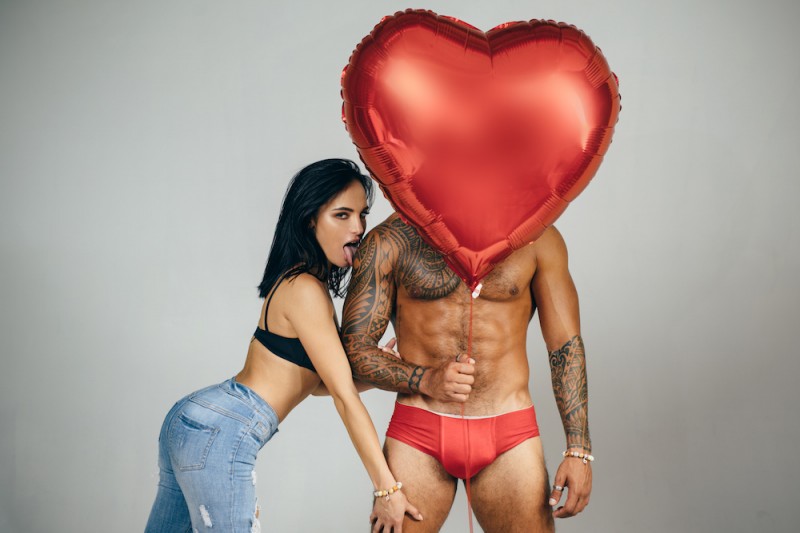 More sex online, but less practice.
Nowadays more than ever, we are invaded by tons of pictures with high erotic content. Books and films of this kind have flooded bookstores and cinemas, but it doesn't seem enough to bring us close to the subject. The statistics of the last years speak for themselves: there is less and less sex. We already know how good it is for our health, but it seems that sexual relations have decreased by 10%, even if theoretically, the information about the topic is much more accessible thanks to the Internet.
We don't speak about our fantasies
The main issue with the matter is that we don't talk enough about our sexual fantasies. In many relations, the couple doesn't know what the other one likes. So, how do we break down these barriers? Start talking to yourself about it without being ashamed! Once you have discussed the subject with yourself, it will be easier to open up with your partner.
Sex is to make love, but also a game
Enough with the idea that sexual enjoyment is just for one or the other. You may prefer vanilla sex or more playful sex, but one doesn't exclude the other. It depends on the situation you are, and it can happen that sometimes you need to feel closer body contact, while on other occasions you need a more instinctive relation, complemented by games. Many couples don't propose new practices in bed because they think that their partner likes more regular sex. This can deprive themselves of experiences that can only bring benefits to the couple. All you need to do is talk about it and propose it.
What you can do on Valentine's Day
This is why Valentine's Day becomes the perfect opportunity to address the subject and put into practice those sexual fantasies that accompany us in secret during the day. For a perfect Valentine's Day, you don't need dinner in a restaurant or a bunch of roses. You have to let yourself go and try to open up your mind in the first instance. Later on, do it with your partner. We bring you today a list of the most common sexual fantasies, both among women and men, that you can try at home on Valentine's Eve!
Hot ideas for Valentine's Day:
Threesome

Single or in a couple, this sexual fantasy is present in many people's mind and is the most common. Why? Naturally, because the situation is incredibly sexy! The view of so many naked bodies, which are intertwined, provokes excitement.

The best positions for hot threesome sex:

The biggest's men fantasy is to have relations with two women. In this situation, the best position is: the man is lying down, one of the women is riding on top of him, while the other receives oral sex in a sitting face position.

In this case, everyone wins! Besides a significant amount of women dream about this sex composition, because this fantasy opens women many more options, as they can be with a woman and a man at the same time, and women can enjoy about the other woman too.

The most common fantasy of women is to have sexual intercourse with two men, committed to satisfying her. In this case, the most exciting position is double penetration, to be tried even lying side by side.

BDSM

It is one of the most popular and practiced sexual fantasies. They are fantasies related to the idea of dominating or being dominated by someone. It exists endless spicy activities that can be performed, all characterized by the extension of a particular sensation, that causes both physical and mental pleasure.

Be careful, don't be fooled by prejudices. To practice BDSM, you don't necessarily need latex outfits or handcuffs. Unconsciously, many couples already practice BDSM a bit. For example through the doggy style position: an instinctive and a bit animalistic sexual position, which allows many variations and is extremely exciting especially for the man, thanks to the complete vision of the sexual act. For a more extreme session, let yourself go and experiment with ropes!

Anal sex

Exactly... it's not all white or all black. This fantasy is typical in the minds of many people, women, and men. The first thing to know about anal sex to make sure that it is a pleasant practice for both, is that you must want it. It's simple.

The anus is, in fact, a very sensitive area, which guarantees pleasure to both man and woman. To have a password, to stop the game, is, in this case, a must! The most common position used for anal sex is the doggy style or spooning. In any case, it will be a success! Guaranteed!

Moreover, if you want one more trick, as your man if he also wants to try. There are more men that you can imagine that like this practice. If you are a man, don't be shy, nobody will judge you for enjoying your body. Despite many could say, yes it is a widespread practice.
Ready for a hot Valentine's Day? Cancel your booking at the restaurant, unleash your imagination and put these recommendations into practice!
So you? Do you have a secret sexual fantasy? Show us what your desires are joining the contest, and win! Join the contest here!

If you want to know more about Valentine's Day Contest, read our article:Valentine's Day Contest, 100€ in prizes. Join now!