How many times a day do we check our phones? Statistics say 150 times a day, which means about every 7 minutes! It sounds crazy, yes, but that's the reality! Our phone has become an extension of ourselves, allowing us to satisfy most of our needs and helping us in many of our activities. It also helps us in the business of used panties. Thanks to a simple system like Panty.com, you can post new pics and improve your gallery, your list of Ads, and stay in touch with your customers any time.
What to do to have Panty.com always ready to use.
When you have a business, it is important to be in touch with potential customers and reply as soon as possible. If someone writes you a message and does not see the answer, he will not wait long, he will simply write to someone else. Having Panty.com's web-app always with you, will allow customers to get a faster response from the seller they contacted and negotiate in less time.
It also allows you to use chat and messages faster, even if you are not at home, by using Panty.com as an App.
How to get the Panty.com web App on your smartphone?
Open the browser from your phone and search for https://panty.com/

Here comes the trick. Click on the 3 points simbol, as shown in the image below.

Look in the menu for "Add to home screen" and select it.

On the screen will appear a window where you can enter the name you want to give to the App. You can leave the default name or customize it, so no one can find out what the App is! Once you've chosen the name, click on "Add".
Now you can exit the browser and search for the App icon on your phone menu. Every time you want to access Panty.com, you just have to click on the icon and you will have direct access to the site. Also, if you receive a message, or if there are updates you will be notified, so you will be always sure to not miss anything!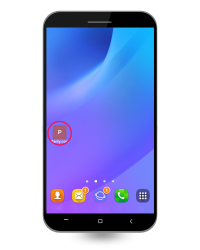 Panty.com always with you!